When is a painting really finished; I wish I knew. With my usual approach, the application of a top coat sealant/protectant signals the conclusion of the painting, no more tweaking, studying, adjusting and messing is possible. But with this painting, I found another way of monkeying with it. This piece had existed for a while and I was generally pleased with most of it, but there were bits that I was less than completely satisfied with. After considerable study and head scratching, I came up a different method of 'adjustment', that is, I did a major cropping and recomposing the painting. WIth a new stretcher frame, I removed the painting, cut off the stuff I wanted to lose, then restretched it; a lot of work but now I am finally pleased with the painting, so well worth the effort.
Early studies and thoughtful pre planning usually catches these potential problem but once in a while, this degree of reworking is called upon to realize the potential of the artwork.


Powered by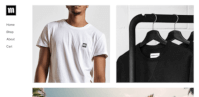 Create your own unique website with customizable templates.